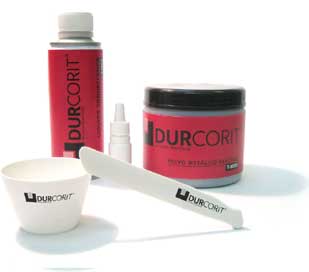 THERMAL RESIST.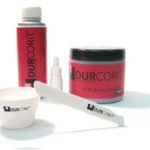 Durcorit T-8000 (800ºC)
Durcorit T 8000 consists of two components-750gr. POWDER 250 cc liquid hardener. It is possible to mix both components with different ratios based on the type of defect.
Application
Use
Properties
Storage & Packaging
Datasheet
Durcorit T 8000 used to correct pores and cavities in all kinds of metal or aluminum castings. It is a perfect product for repairs of any size that later have to be subjected to temperature. Durcorit T 8000 supports up to 800 ª C. It has excellent technical and anti-corrosion properties.
Mix the powder and the liquid to a ratio of 3:1 (which is suficientemente dense for its correct application). By adding more powder or liquid, you can adjust the viscosity of the mixture according to your target. Once you get the desired thickness, allow it to dry. Once it is dry, it can be sanded either manually or by machine. You'll get an excellent metallic finish
Curing time: From 30 to 75 minutes, depending on the thickness of the mixture. Greater thickness, more drying time.
Bicomponent
Good metal finish
Good chemical properties
Good adhesion and hardness
Short drying time
Can be painted over once dry without problems
Easily sandable
Can be varied the ratios of mixture depending on the porosity
Thermal resistance: 800ºC
Storage time: 12 months.
Packaging: 750gr. Poder can +250CC hardener liquid.