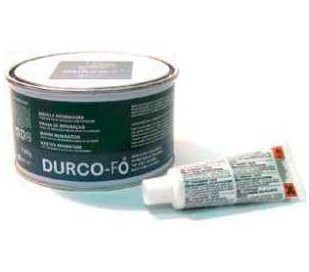 MACHINEABLE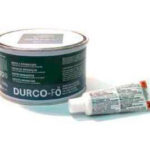 Durco FO
It is a perfect product to repair all types of defects of any type and size. It spreads very easily. It is a two component product. 1.3 kg. of pasta and 30 gr. hardener tube.
Application
Use
Properties
Storage & Packaging
Datasheet
Durco FO is used to correct porosities and cavities in all types of model parts and foundry dies of both iron and steel. It is a perfect product for repairs of small, medium or large size. It has a good metallic finish.
Take the amount of pasta you want to apply from the can. Add a small amount of hardener and spread over the defects to be repaired with the help of a spatula. Once the desired thickness has been achieved, let it dry. Once dry, it can be sanded both manually and with a machine.
Drying time: From 20 to 25 minutes.
Two-component.
Metallic finishing.
Good adhesion.
Good hardness.
Short drying time: 20 to 25 minutes.
Can be painted over once dry without problems.
Easily sanding.
Machineable.
Thermal resistance: 120ºC.
Storage time: 12 months.
Packaging: 1,3 kg. paste can + 30 gr. hardener tube.